If you're convinced you'll need the super long tresses of a Disney princess to pull off romantic hairstyles, think again! Whether you're rocking a cute pixie crop, a beautiful bob, a luscious lob, or something in between, we have plenty of stunning styles that will give your cropped locks the loving treatment they deserve. From the simple addition of a cute accessory to more complex looks that you can learn step by step, let Lionesse take you through all the romantic hairstyles you never knew you could wear with shorter hair.
Side Parted Barrel Curls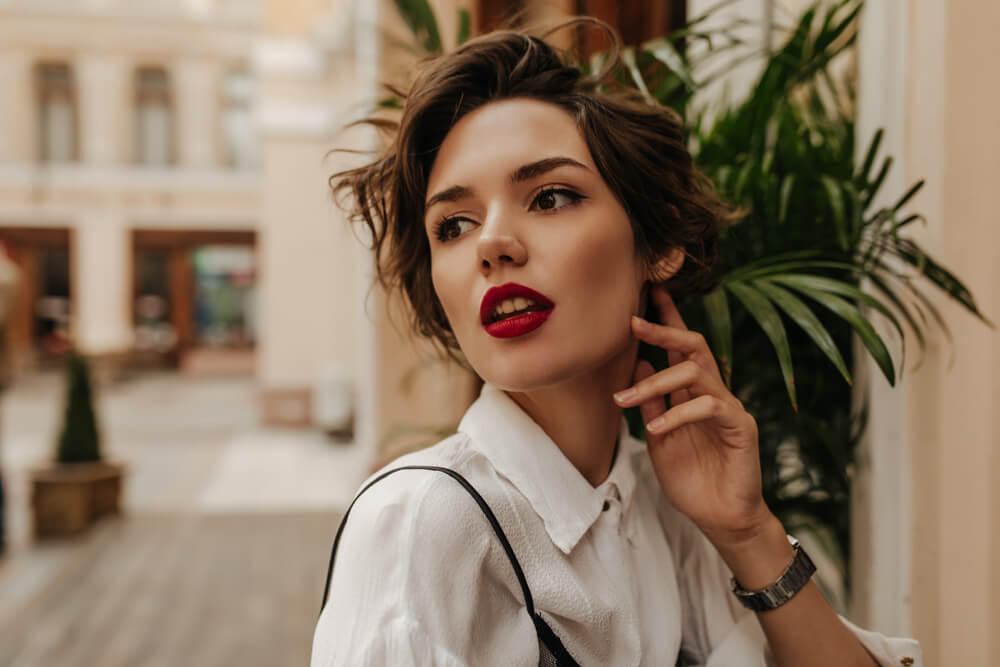 When we think of romantic hairstyles, we automatically picture gorgeous curls. So, whether you're blessed with your own or you need a little help from your trusty heat tools, we say this one is definitely worth trying out. Perfect for your next date night or an evening with friends!
If you're wondering whether or not you can pull this one off, simply take a look at the length of your hair. This one works best for those with a lob (long bob) or shoulder-length hair. That said, if your hair is a little shorter than that, still keep this style in mind! You may not get the length of the curl right away but you'll certainly create something beautiful and full of volume that looks just as stunning!
How to Create Side Parted Barrel Curls
Luckily for those of us not super confident in our short hair styling abilities just yet, we're starting out with a simple one!
First, we recommend making sure your hair is freshly washed and conditioned so it's ready to be curled. It'll also help it look super soft and bouncy once it's all done! For this, we recommend using Lionesse's Nourishing & Moisturizing shampoo and conditioner. It's specially designed to smooth the hair fibers, helps with untangling knots, and is enriched with proteins derived from plants and olive oil. Plus, their lightweight formulas will nourish your shorter locks without weighing them down – so essential! 

Now, part your hair just slightly off-center. This will instantly create a dramatic, romantic look. 

Before curling, make sure your hair is thoroughly dry so you don't damage damp hair with your heated curler. Also, treat your tresses to a generous spritz of heat protection spray or cream.

Next, take your wand and get ready to curl! We recommend the Lionesse 1" curling iron for those with thicker hair or the 3/4" curling iron if it's on the finer side. Whichever you choose, you're guaranteed to create gorgeous curls that look natural and full of life. 
Starting at the front, take small sections of hair one at a time. For this look, we recommend around an inch wide if you have fine hair and around an inch and half if your hair is thicker. This will create larger, more voluminous romantic curls as opposed to tight ringlets.
Alternate between curling away from your face, then towards it. Wrap the hair from roughly where your eye line is right the way to the end of each section to create a full curl.

Once you've curled all of your hair, finish off with a few spritzes of setting spray to hold your style in place from morning until night!
Elevated Barrel Curls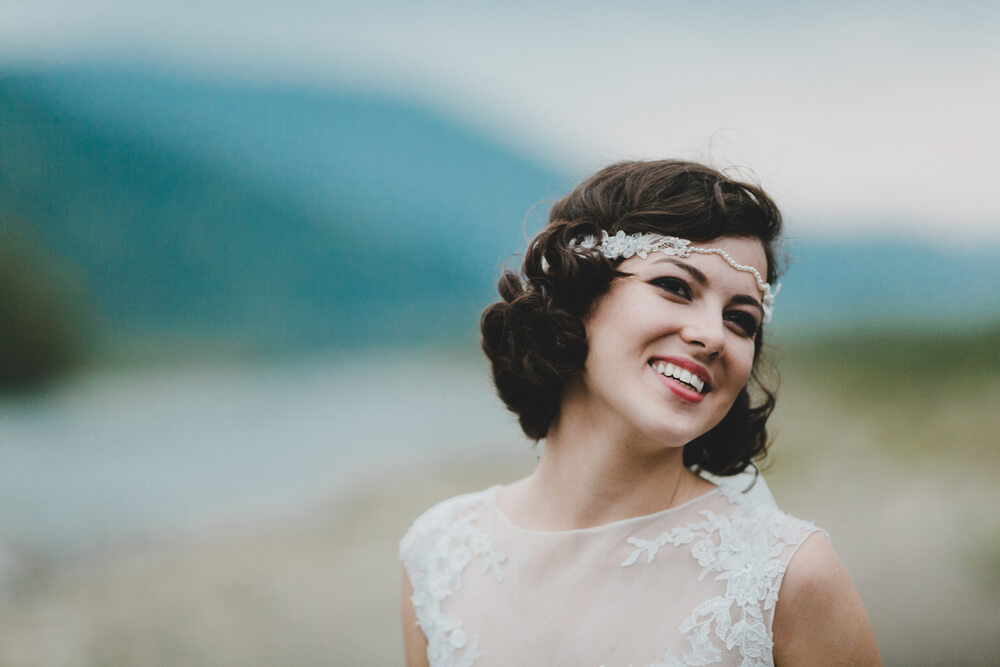 Looking for romantic hairstyles like the one above but need something a little more elevated for a special occasion, like your wedding? 
It's easily done! 
Simply place your parting a little further to the side for some added drama. Then, add a decorative headpiece for a wow moment! Pearl or metallic clips also work amazingly well for such occasions.
Short Side Swept Waves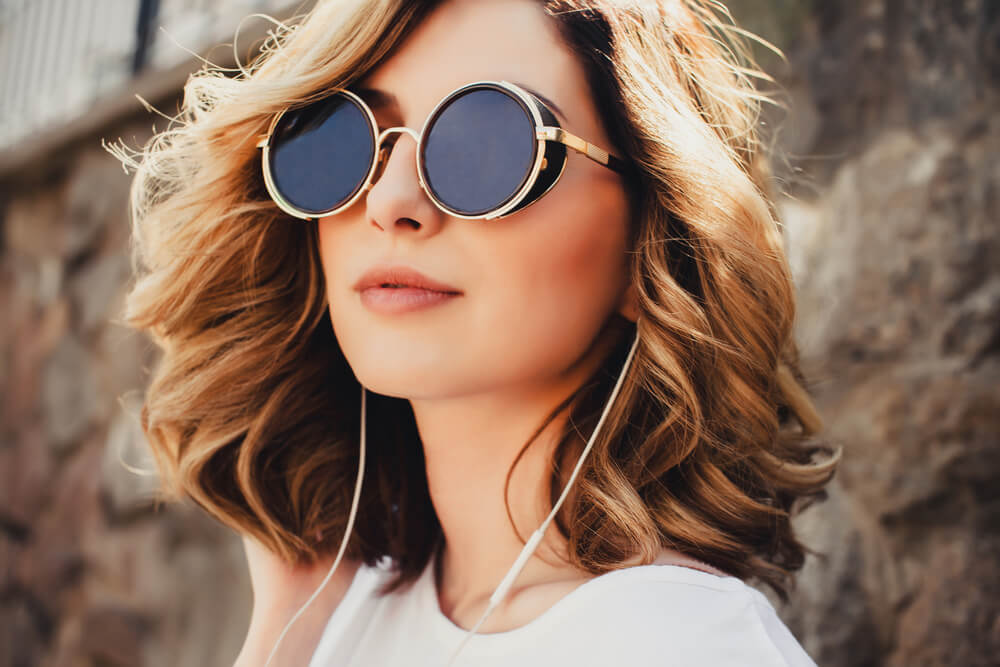 Whether you've recently cut your hair short and feel there's no way to style it anymore or you're searching for new ways to make your short hair look a little more special for the new year, this style is the one you've been waiting for.
Why?
It's super simple yet so, so pretty!
We adore this look for everything from running errands and heading into the office to date nights and cocktail parties. One thing's for sure, whenever you decide to wear your hair like this, you should prepare for an endless stream of compliments!
How to Create Short Side Swept Waves
How you create this style all depends on whether your hair is naturally wavy or whether you'll need to create the waves before flipping them over for the finishing touch. Just in case, let us talk you through how to create natural-looking waves before you create your parting!
Begin with freshly washed, conditioned, air-dried hair. If it's too cold for you to wait out your locks drying completely, then go ahead and use your blow dryer. Put it onto a cool setting and make sure you're not drying your hair straight down. Dry it roughly so you keep the volume and any natural waves that might appear after your shower!
Next, go ahead and reach for 

your favorite flat iron

. Our pick is the Lionesse Silk Aquamarine straightening iron. It features 1.25 inch wide ceramic plates, which retain heat for quick and easy styling. We're guessing that's one of the reasons you decided to style your hair short in the first place, right?
Now, don't worry, we haven't forgotten we're creating wavy hair, not straight locks. We love the flat iron wave technique and we're pretty convinced that once you try it you'll never look back! So, take small random sections at a time. Put each one between the plates and turn your flat iron in a C shape as if you were going to create a curl. Before you turn it all the way around, move it in a C shape back the other way. This will create a wave instead of a ringlet. Plus, it looks incredibly natural, stays in all day, and take just minutes to go over all of your hair!

Don't worry about being too perfect – you want your hair to look naturally wavy and not too uniform. Once you're done waving all of your hair, go ahead and flip your locks into a deep side part.

Again, simply use your fingers to create the part instead of being too neat with a comb. This will give the laid-back, just-woke-up-like-this, romantic essence we're looking for!
Low Braided Bun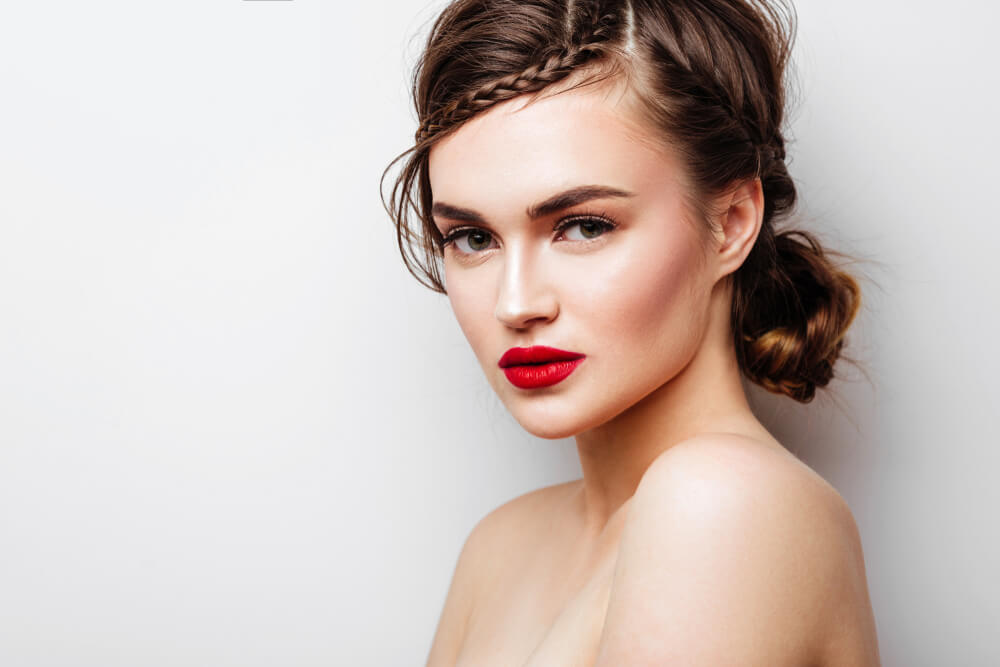 Hands down, this has to be one of our favorite romantic hairstyles of all time! It might take you a little while to do but it's totally worth it. Plus, it's one of the most perfect romantic hairstyles to know as it's ideal for weddings, bridal showers, and anniversary celebrations.
Will it work on short hair?
We're glad you asked!
We'll be honest, though this style looks amazing on short hair that's all one length, if you have lots of layers, it might not be the one for you. 
Why? 
You'll likely find the braids won't stay in. 
If that's true, just go ahead and skip over the braiding steps. Simply opt for a low bun or ponytail with a deep side part. Just as chic, just as romantic!
How to Create a Low Braided Bun
Start by creating a deep side part. Make it nice and neat. Then, once you have it, create another parting roughly an inch away towards the center of your head. This is the section we'll use to create the first braid.

Tie the rest of your hair back for now. Then, take the center section of your hair. Hold it up, and brush it out so it's tangle-free. Place it towards the front of your head – we're going to braid from the back!

Starting from the back, French braid your hair forward until you reach your hairline. From here you can change into a three-strand braid. Braid towards your ear so that the finished plait can be fastened neatly once the rest of your hair is done. Secure it with a clear elastic.

Now, take the rest of your hair down. You can add another French braid on the other side, or let the center braid you just created steal all the focus! Sleek the remaining hair into a low bun or ponytail, then use a bobby pin to secure your braid neatly behind your ear.
We recommend curling your hair if you're leaving it in a short ponytail for an extra touch of romance!
What if pieces fall out?
Well, that's even better!
Finish off the look by pulling a few pieces loose to create a laid-back vibe… nobody needs to know the real effort it took!
Half Up Half Down Hair With a Bow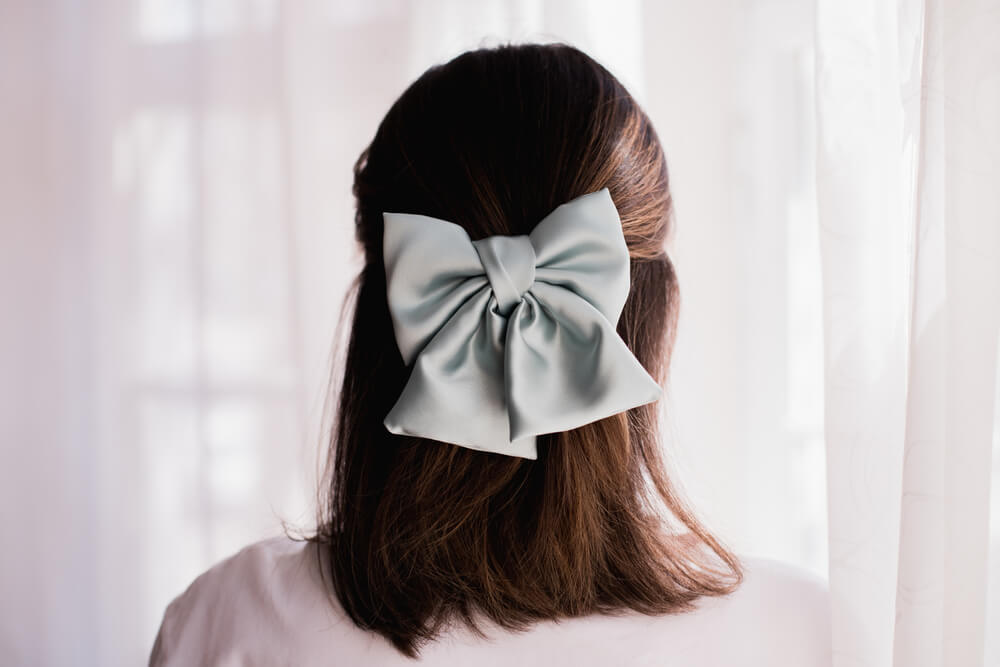 Simple romantic hairstyles are some of the best hairstyles and, luckily, this one is particularly easy to create. You don't need much styling knowledge to pull it off, yet it will look instantly pretty and perfect for so many occasions. Plus, you can match your bow to your outfit – we're in love!
How to Create Half Up Half Down Hair With a Bow
Second-day hair works perfectly with this style as it'll stay in place better. However, if you've just washed your hair, a quick spritz of dry shampoo with help!

Choose whether you'd like your hair curly or straight. Then, reach for your fave Lionesse heat tool to make it happen.

Once your hair is prepped, simply use your fingers to divide your hair in half. Start just above your ears and work to the back. Secure the top half in place with a clear elastic, then grab your bow.

If it clips in, clip it just above the clear elastic so it sits straight and will conceal the band. If it's a ribbon, go ahead and tie it into a bow around the elastic to hide it away. Romantic hairstyles don't get cuter than this!
Floral Dutch Braided Half Up Hair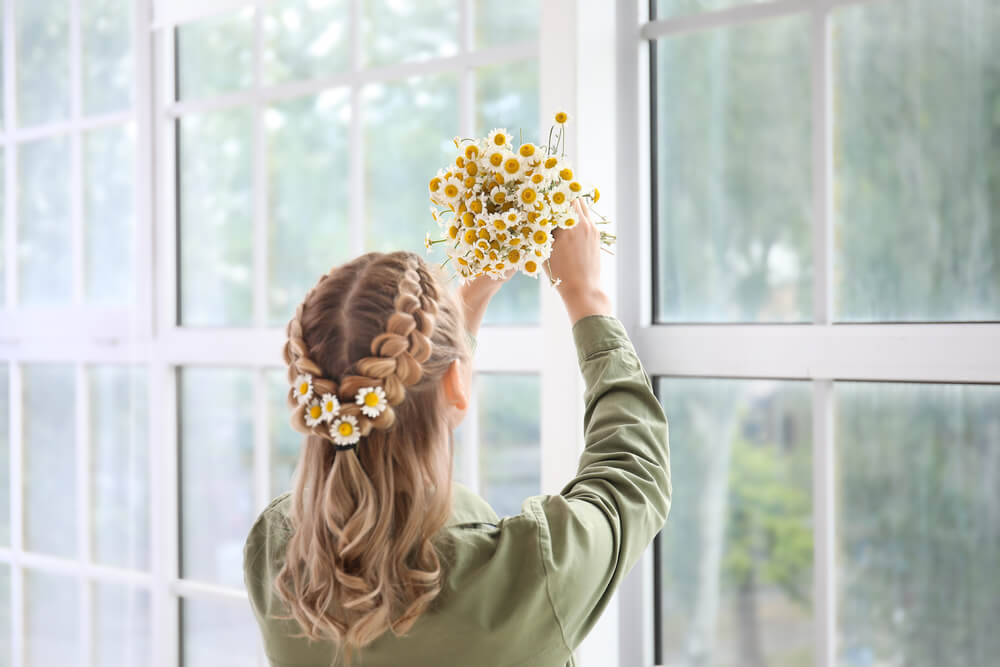 If you love half-up half-down romantic hairstyles but want to elevate yours, this is the look for you. We love the Dutch braided look, but if you're not quite there yet, you can always substitute braids for simple twists to make this one work for you!
How to Create Floral Dutch Braided Half Up Hair
Make sure your hair is tangle-free before you begin. This will make braiding the hair much easier! Once that's done, section out the top half of your hair as with the previous style starting just above the ears. Create a center part and divide this in two.

Next up, braid your hair! Create a Dutch braid on either side of your hair and secure each in place with a clear elastic. Once both are done, tie them together.

If you're not confident Dutch braiding your hair (or you're short on time!), go ahead and create two twists. These are easily achieved by dividing each of your two sections into two and simply twisting them around each other until you reach the back of your head.

Once your style is secured, slide a few fresh (or artificial) flowers in at the back. If you're feeling particularly creative, you could even add a few through your braids too!
Simple Braided Bob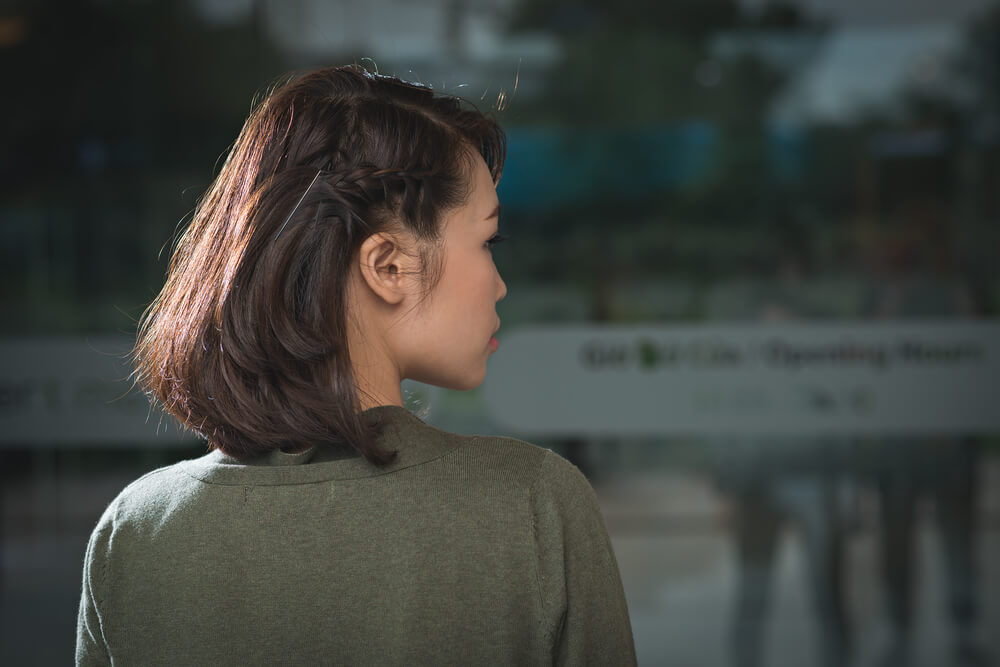 If you love romantic hairstyles like the one above but need something simpler for workdays, we have you covered!
Instead of a center parting, create yours to the side. Begin braiding (or twisting) your hair on the side with less hair, then stop once you reach just behind your ear. Secure in place with a bobby pin or two and you're all set. A super chic look for the office or running errands on off-duty days!
Curled Bob… With a Cute Beret!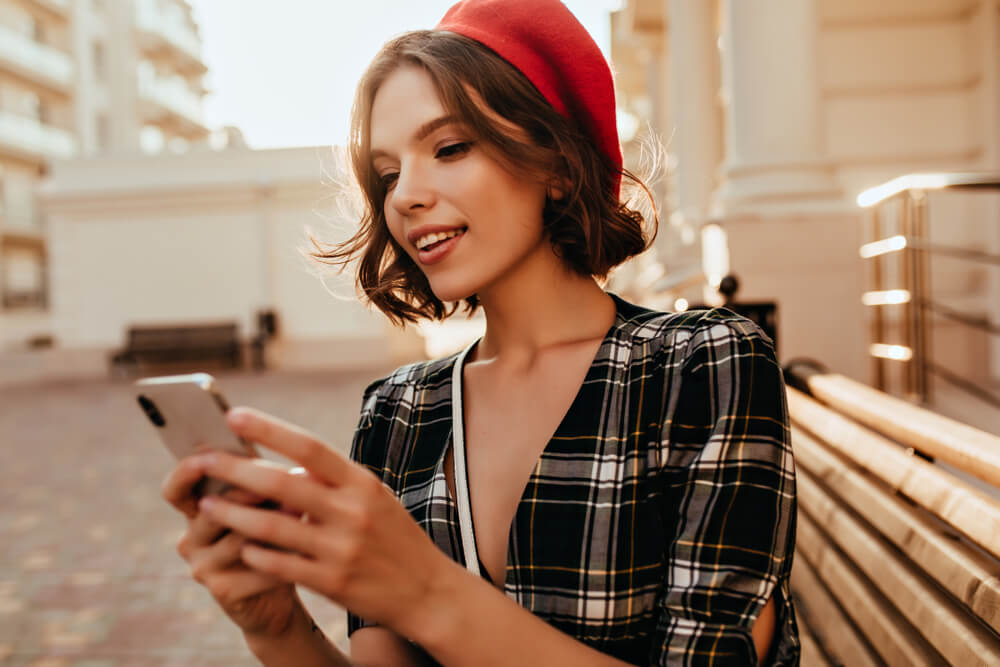 Whilst there's still a chill in the air, Lionesse recommends enhancing your locks with a pretty beret to keep you cozy and stylish all at once. And don't worry, when it's worn the right way, your hat will only work to enhance your look, not cover it up!
How to Create A Curled Bob… With a Cute Beret
This style definitely works with straight hair but we think the curls are what make it really stand out. So, use your go-to curler or flat iron to create a few curls throughout your bob (or lob).

Now, grab your beret and place it at the back of your head. Use your fingertips to pull it on gently so it's resting behind your ears. It should be angling towards the front of your head.

Finally, make sure your hair is visible at the front. You should be able to see roughly two inches of your parting. Tuck your hair behind one ear, leaving a loose piece or two at the front for a hint of effortless Parisian style!
Have you been inspired to create romantic hairstyles for every occasion on your social calendar? Or are you considering rocking a cute new look for the office next week? Whichever of the styles on our list has you smitten, we know you'll be head over heels the moment you see your romantic creation in the mirror!
To elevate these romantic hairstyles even more, check out the hair care products and styling tools available from Lionesse.