Pearls are well-known for their sophisticated beauty and exquisite shine. While they're not exactly jewels, pearls are among the most precious gems you can find. That's why they're so popular in jewelry, from necklaces to bracelets and even the unconventional engagement ring.
But there's more to pearls than just a pretty accessory to top off your evening outfit. What many people don't realize is that pearls are used in skincare too. They've been around for giving the skin a glow-up since the ancient days and are still growing in popularity today, specifically in Asian skincare.
Pearls offer a plethora of skin benefits, from anti-aging to brightening the complexion. That's why Lionesse has come up with an entire line of skincare products infused with this graceful gem.
The Lionesse White Pearl Collection aims to do it all for your skin — it improves your skin barrier, texture, tone, elasticity, and more. It includes one of our most loved creams, the White Pearl Day Moisturizer, and many other products sure to give your skin the luminescence and strength it needs.
What is Pearl Powder?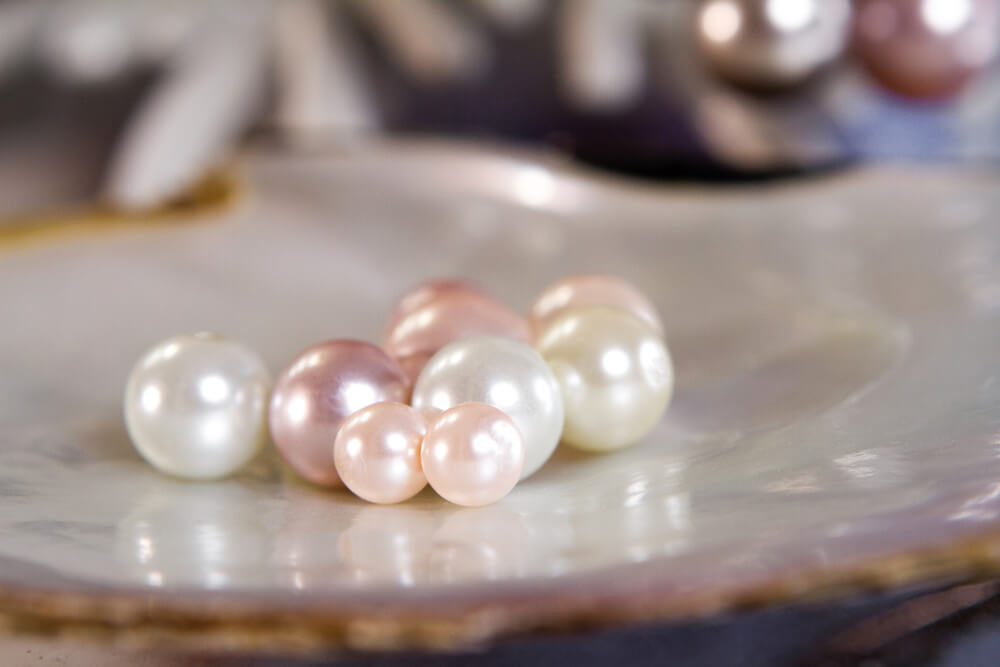 Pearls have been around for centuries. Our ancestors from years and years back probably used them to trade, and they were always a status symbol for wealth, beauty, and purity. It's also absolutely stunning. And because it's the only stone created by living creatures, it was deemed the mother of all gemstones.
In an ancient Chinese dynasty, empresses commissioned teams to study pearls and the benefits they possibly have on the skin. It was then that the world realized how useful pearl powder was for many skin issues and concerns.
Pearl powder is exactly what it sounds like — crushed pearls. Pearls are heated in water until they reach boiling point, and then they are milled until they create a fine powder that is soft to the touch, similar to baby powder or cake flour. This powder is what we use today to inject into luxury skincare products.
Why is pearl powder excellent for the skin? The short answer is that it has tons of vitamins and minerals our skin craves. It has traces of about 30 different minerals, including calcium, magnesium, and iron — all fantastic for the skin. Pearl powder also has tons of amino acids to beef up that skin barrier.
However, if you're trying to follow a plant-based lifestyle, this ingredient may not be your favorite. Pearl powder technically isn't vegan because it's a byproduct of oysters.
Essential Lionesse Pearl Products To Try Out
Curious about pearls and thinking about incorporating it into your skincare regimen? We've got you covered. Lionesse is all about elevating high-end skincare with gorgeous jewels and the finest gems, so you best believe we have pearl-infused products to make your skin glow.
The Lionesse White Pearl Collection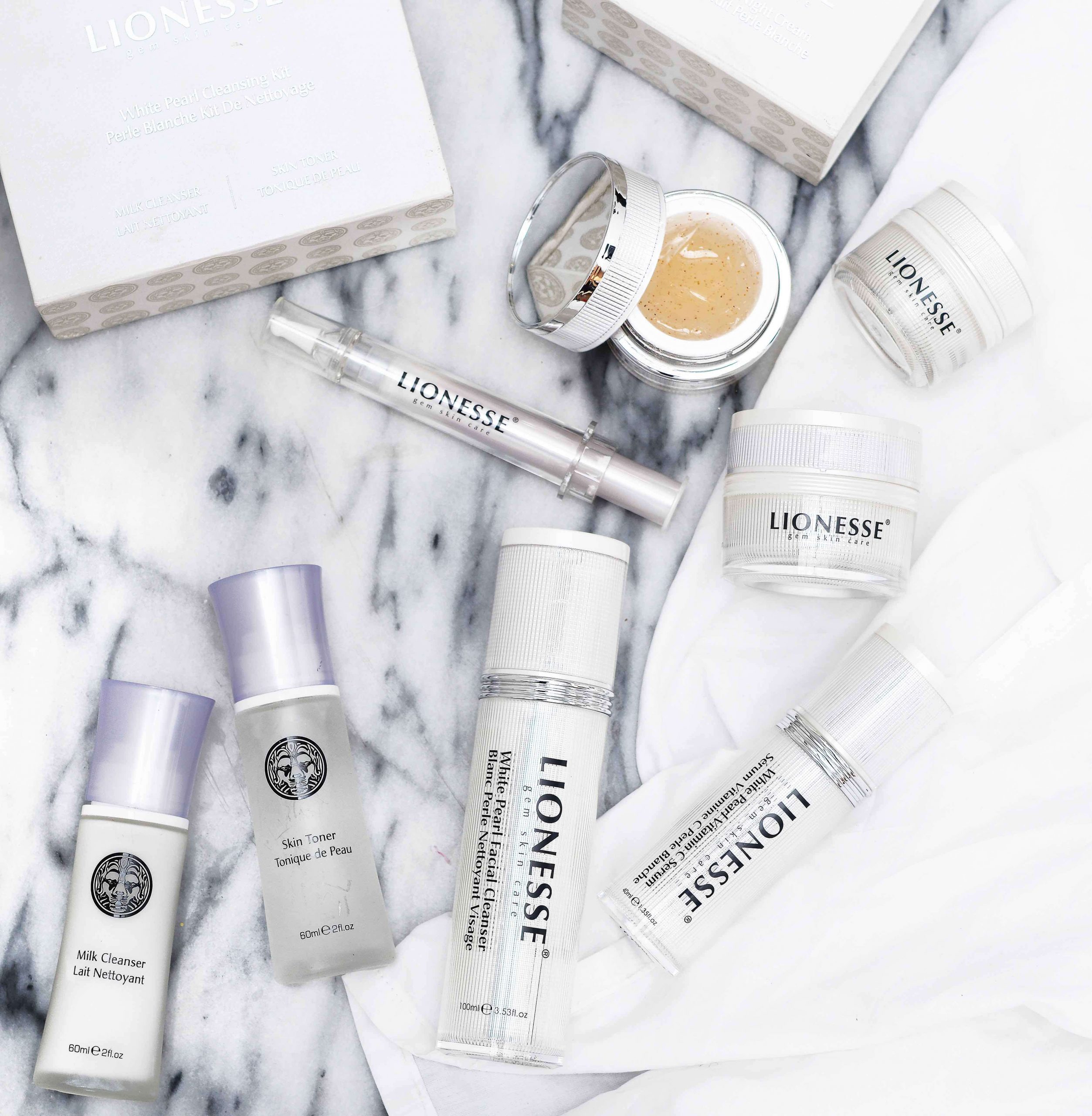 The White Pearl Collection includes an entire line of products to help you build a skincare routine from scratch. It includes a gentle facial cleanser, a potent vitamin C serum, and even an intensely nourishing night cream. But the crème de la crème of this collection lies in the White Pearl Day Moisturizer.
If there's one product from this entire collection that you cannot pass up, it's the White Pearl Day Moisturizer. It's the type of moisturizer you apply at the end of your skincare routine to lock in all the hydration from the rest of your skincare products, but enhanced with the luminosity of pearl powder.
The White Pearl Moisturizer is a terrific way to cap off your skincare routine in the daytime before slathering on your SPF. It's infused with other highly nourishing ingredients, such as shea butter and sunflower seed oil. These work not just to moisturize and smoothen out the complexion, but to boost elasticity and soothe your skin too.
If you have sensitive skin, don't worry. Like all Lionesse products, the White Pearl Day Moisturizer is paraben-free, so it's not likely to irritate your skin no matter how delicate it is.
The entire collection, but the White Pearl Day Moisturizer especially, was created because we were so inspired by the beauty and luster of pearls. If you want to feel like a queen shining with dewy, youthful-looking skin, pamper yourself with this collection today.
But what does pearl powder — and consequently, the White Pearl Day Moisturizer — bring to the table that makes it so magnificent for the skin? Here are several skincare benefits you can get out of pearl powder:
It Strengthens Your Skin with Amino Acids
Pearl powder is rich in amino acids, also known as the building blocks of many of our skin's essentials, including protein and collagen. There are around 20 amino acids in existence. Some of them are essential, but others are non-essential, which means the human body can't produce them on its own.
Luckily, pearl powder is rich in non-essential amino acids too, giving your skin a boost of strength from compounds it can't make by itself.
Amino acids also work to hydrate the skin deeply and improve its water retention. They're able to push moisture into the deeper layers of the skin and keep it there, ensuring that your products are working hard. Since pearl powder helps in keeping your skin moisturized properly, it can keep wrinkles and fine lines away.
Another way amino acids beat the signs of skin aging is by producing peptides, bonds that promote firmness in the skin. So with a pearl-infused cream like the White Pearl Day Moisturizer, your skin is sure to be smooth, nourished, and wrinkle-free.
It Brightens the Complexion for a Luminous Glow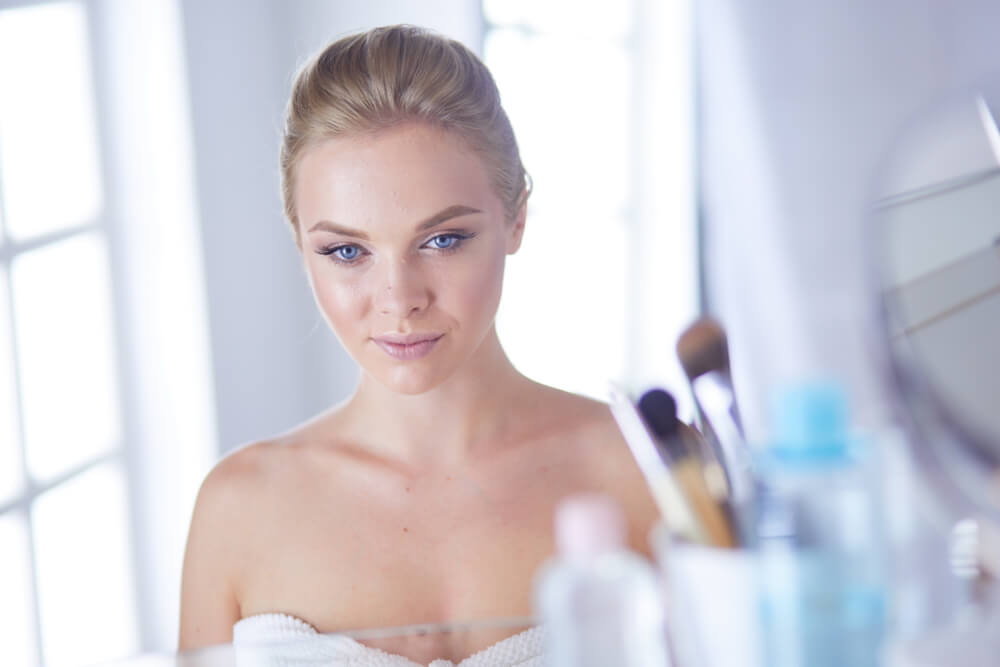 Pearl powder is also known as an antioxidant booster. It enhances and improves the performance of different amino acids and antioxidants that aim to protect your skin from free radicals and oxidative stress.
One of the antioxidants pearl powder is really good at boosting is glutathione. This antioxidant inhibits the enzymes in charge of the production of melanin to give you fairer, brighter skin. Through this, you can fade dark acne scars and age spots so that your complexion can be even and blemish-free.
The best part is that you don't just get clear skin when you use pearl powder. It also helps to add a radiance that not all skin brighteners provide. The pearlescent effect will make your skin reflect more light, adding a dazzling glow to your complexion.
It's a Soothing, Anti-Inflammatory Ingredient Thanks to Magnesium
Pearl powder is rich in magnesium, a mineral known for its anti-inflammatory benefits. Because of this, it poses many benefits for acne-prone skin, including soothing the skin and calming down redness and irritation when you have active breakouts.
Magnesium is also terrific for those struggling with sensitive skin conditions such as psoriasis and eczema. So if you're battling those issues and are picky with your skincare products, don't be afraid of using the White Pearl Day Moisturizer — it might help more than you think.
Another benefit of magnesium is that it reduces the effects of sun damage. So if you're susceptible to scarring when your skin is exposed to the sun, pearl-infused skincare can help a ton.
It Lightly Exfoliates the Skin for Fast Skin Cell Turnover
Another way pearl powder helps make your skin look youthful and glowy is by exfoliating it lightly. That's why it's such a crucial ingredient in the Lionesse White Pearl Facial Peeling.
Pearl powder helps to shed off dead cells lying on the surface of your skin. When these are washed away, you'll reveal newer, healthier skin hiding underneath.
This benefit of pearl powder in particular is highly useful for those dealing with hyperpigmentation and stubborn age spots. Exfoliating with pearl-infused peels can help speed up the process of renewing your skin so you can have a clear, spot-free complexion again.
It Boosts Collagen Production for Plump, Taut Skin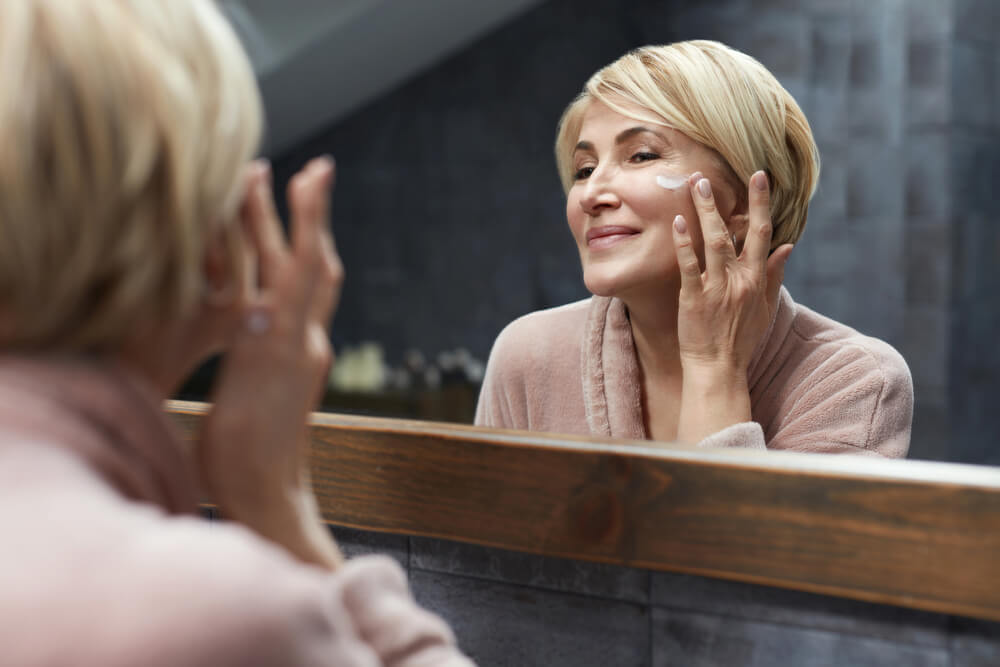 Pearls are rich in a compound called conchiolin, a protein that gives our favorite gemstone its luminescent shine. While it's responsible for giving your skin that captivating glow, conchiolin also helps out in another big way — boosting collagen production.
Conchiolin promotes the regeneration of collagen in your skin, adding strength and volume to it. This helps add youthful plumpness to the skin. And since collagen is key in keeping your skin firm and tight, it also keeps wrinkles and deep lines at bay.
Pearl powder also contains a substance called "nacre," which also stimulates collagen in the skin. Together with conchiolin, it helps beef up the collagen in the deeper layers of your skin.
The result? Strong, bouncy skin that repairs itself quickly. It also helps delay the onset of the signs of aging, keeping your skin smooth and free of pesky smile lines and forehead wrinkles.
It Has Calcium to Help Regulate Sebum Production in the Skin
You'll find a very high calcium content in pearls. This mineral is most known for making your bones and teeth stronger, but it's also essential for maintaining the health of your skin.
Calcium is excellent at regulating the moisture levels in the skin. That's because it works together with your epidermis (the top layer of skin) to produce natural oil, also known as sebum. Sebum coats your skin slightly to ensure that it's properly moisturized throughout the day.
People who don't have enough calcium in their bodies won't have enough sebum to keep their skin nourished naturally, leaving them with super dehydrated skin.
That's where nourishing pearl products like the White Pearl Day Moisturizer come in. It helps nourish the skin deeply with the help of calcium-rich pearls.
Aside From Skincare, Where Else Can You Use Pearl Powder?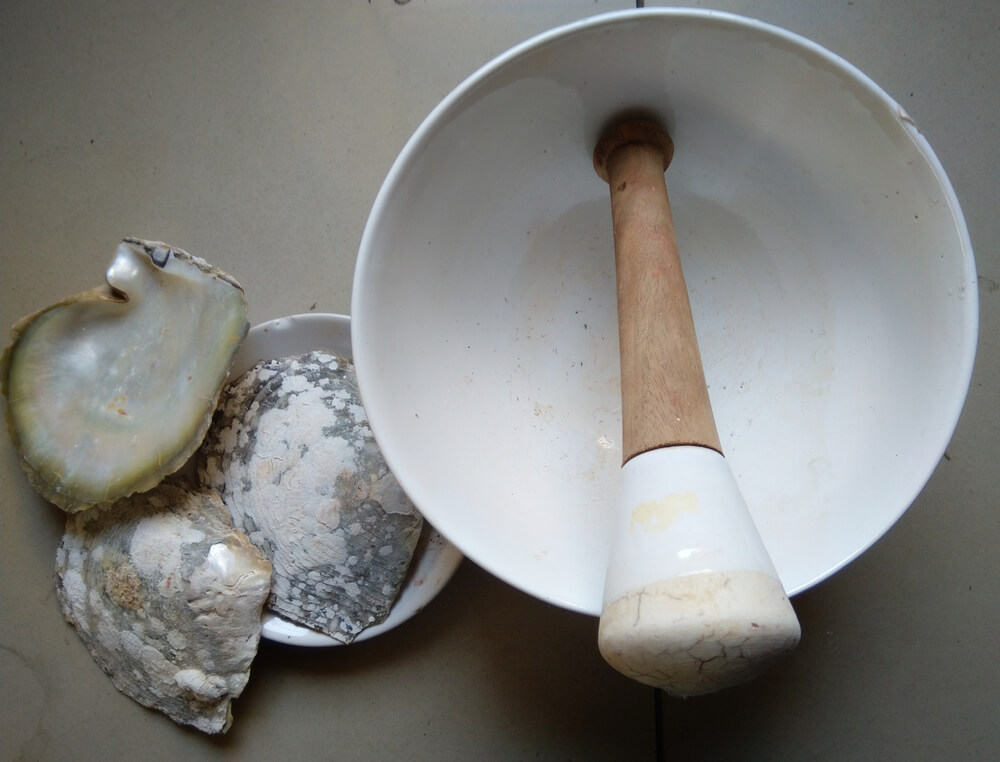 You can also see pearl powder in many other types of cosmetics, like makeup, oral supplements, and even toothpaste!
Pearl powder is infused into innovative foundations, primarily in Asia. The powder adds a bit of pearlescent shine to the skin, making it look healthy, dewy, and super light-reflective. The effect is similar to mica, another powder used in many makeup products.
Many people also believe that ingesting pearl powder orally has tremendous benefits for the body's overall health. Its high amount of calcium and iron is excellent for building up the bones and encouraging healthy blood circulation. It also helps you rest and relax when you're feeling stressed.
Some Precautions for Using Pearl Powder in Your Skincare Routine
You may be wondering — is pearl powder safe on every skin type? Generally, yes, pearl powder is very safe to use. However, if you have a known allergy to calcium, you might check with your trusted dermatologist if you can handle pearl products.
And as with any skincare collection, it's always good to do a patch test in a small area of your skin first before slathering your face with anything new. It's especially important if it's your first time dabbling with a specific active ingredient.
If you're nervous about how your skin will take pearl powder, try applying some product on your wrist or forearm. Leave it for half an hour or so. Check from time to time if you see any adverse effects or bad skin reactions, like rashes or itching.
If your skin seems to like it and has no negative side effects, then you're all good. You can proceed with using the rest of the Lionesse White Pearl Collection!
Conclusion
The deep blue ocean is a fascinating and mysterious place. It gives us many blessings like water and food. But it's also a rich source of luxurious skincare ingredients, one of the very best being pearls.
Pearl power-infused skincare products like the White Pearl Day Moisturizer and the rest of Lionesse's White Pearl Collection products boost brightness, add strength, and delay aging in the skin. Because pearls are rich in amino acids and other vitamins, it only makes sense to call it a powerhouse skincare ingredient that can do it all.
Next time you're in the mood to try out a unique skincare ingredient in your beauty routine, look no further than this collection by Lionesse. You'll get everything and more — from an even tone to regulated sebum levels — from any of the products in the line, but especially the White Pearl Day Moisturizer.