It seems that the majority of beauty products on the market are targeted at the one thing that worries us the most – aging. How to slow down the inevitable appearance of its signs, especially fine lines, and wrinkles, is the question that kind of likes to torment us all.
Time does truly pass extremely quickly. If you don't start paying attention to your skin early enough, you might lose the battle from the very beginning.
Luckily, there are a couple of amazing products that will help you with this never-ending fight. One that stands out among all others is, definitely, the Lionesse Black Onyx Line Eraser Syringe.
Why Lionesse Skincare Products?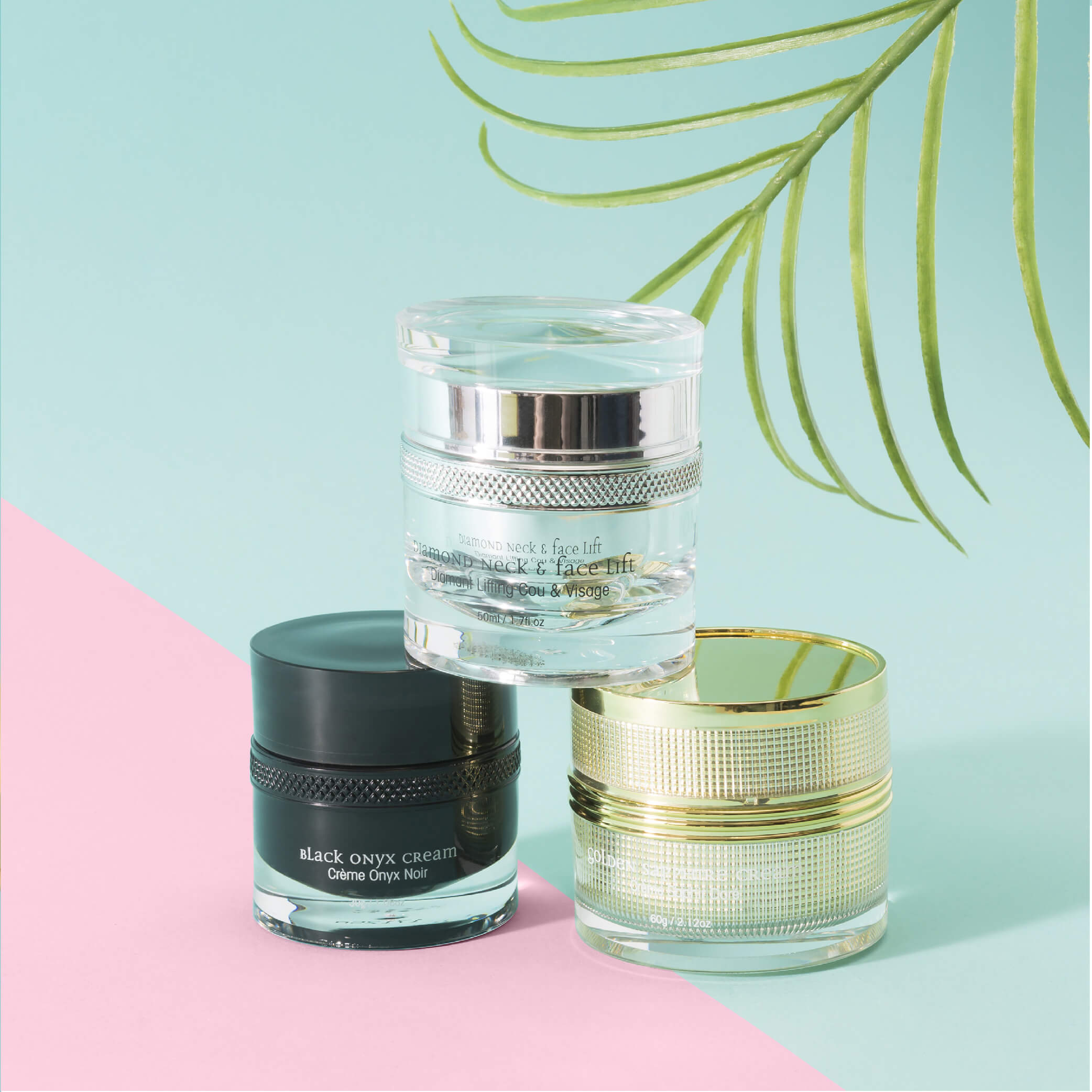 Well, if you want the best for your skin, you simply must opt for any of the Lionesse Skincare products on the market.
The Lionesse Black Onyx Line Eraser Syringe is just one out of many products your face can benefit from.
Lionesse is a world-famous beauty brand, and for good reason, too. We sell hundreds of amazing, high-quality products that aim to help women present themselves as what they truly are – lionesses, beautiful, strong and confident.
Before we go into more detail about the Lionesse Black Onyx Line Eraser Syringe, let's take a look at the collection it comes from.
The Black Onyx Collection from Lionesse
There is a truly fascinating mythological tale behind the black onyx. A tale that gives this beauty line even more power. While the goddess of love, Venus, was asleep, Cupid cut her fingernails and threw them over Earth. As some of you may know from other mythological stories, gods and their parts can never die. So, these nails remained on the ground and were later transformed to Black Onyx.
On the other hand, in the Middle East, the Black Onyx was associated with the dark arts. Later on, its use shifted to that of healing.
Black Onyx was said to heal bones, blood and teeth, and also many skin diseases, rashes, inflammations and wounds. So, the healing power the black onyx has on the skin has been known for centuries. It comes as no surprise that this reparative line of products bears that name.
The Black Onyx Collection contains some truly fascinating products. This is important to know, because the best effect is achieved when they are all used together.
In total, it includes four products:
The Black Onyx Mask

Lionesse Black Onyx Serum

Black Onyx Cream

Lionesse Black Onyx Line Eraser Syringe
Lionesse Black Onyx Line Eraser Syringe – An Instant Fix

How Does it Work?
In order for it to work properly, you need to apply Lionesse Black Onyx Line Eraser Syringe on clean skin. Press the top of the syringe and apply the product directly on the wrinkle.
Of course, if you think you have put too much, remove it with a clean cloth or a cotton swab.
What Effect Will it Have on Your Face?
In order to understand this question, and how the Lionesse Black Onyx Line Eraser Syringe works, you need to be familiar with its ingredients. Two of its consistent parts that have to be mentioned are Hyaluronic Acid and DMAE.
Hyaluronic Acid already exists in your skin, where it connects with the water molecules and helps the skin to retain moisture. However, as the years go by, the effect of the natural aging process and the influence of other factors such as ultraviolet radiation, tobacco smoke and pollution reduce the production of hyaluronic acid in our body.
By applying a product rich in hyaluronic acid directly on the wrinkle, you are targeting the problem and dealing with it spot on.
Like, literally.
DMAE, too, helps with the fine lines and wrinkles. Many studies have shown that, when applied on the face, it tightens the muscles in the skin of the face, and makes it appear more youthful. It is also rich in antioxidants, which protect the skin cells from outer irritants and the damage they might cause.
Having these two amazing ingredients, it is no wonder the Lionesse Black Onyx Line Eraser Syringe will have the following benefits for your face:
It Hydrates the Skin
By directly targeting the wrinkle you want to get rid of, Lionesse Black Onyx Line Eraser Syringe will infuse the moisture into the ailing part, making it less dry and, thus, more elastic. By increasing skin's elasticity, it also reduces the roughness of the skin, which is also responsible for the creation of wrinkles.
It Has an Anti-Aging Effect
Hyaluronic acid, as we have said, is the main ingredient in the Lionesse Black Onyx Line Eraser Syringe. If you use it persistently, it will significantly decrease the depth of wrinkles. You will soon notice that your skin is looking much firmer and much more elastic. The years gone by will quickly become almost unnoticeable on your face.
It will look as if you haven't aged at all! And, in the end, that is what we all secretly want, isn't that right?
It Instantly Fixes All Imperfections
Imagine you have to appear at a special event, looking flawless, in a couple of days, and your face just won't listen. To make matters worse, you have a couple of more lines threatening to endanger your look, and you just don't know what to do.
This is where Lionesse Black Onyx Line Eraser Syringe comes into the picture. A simple press from the syringe and all your worries will simply…disappear!
Besides hydrating and making the skin more elastic, it also soothes the skin, making it look fresher and more radiant. No more dull skin, no more dry spots, no more inflammation. It has an anti-inflammatory effect, so it is going to fix any problems you might have on the skin in no time.
You will be the belle of the ball, and those deep wrinkles you had will be the thing of the past.
Isn't that just amazing?
However, in order to achieve the full effect the Lionesse Black Onyx Line Eraser Syringe could have on your face, it is best to use it with all of the other products from the Black Onyx Collection.
The Black Onyx Mask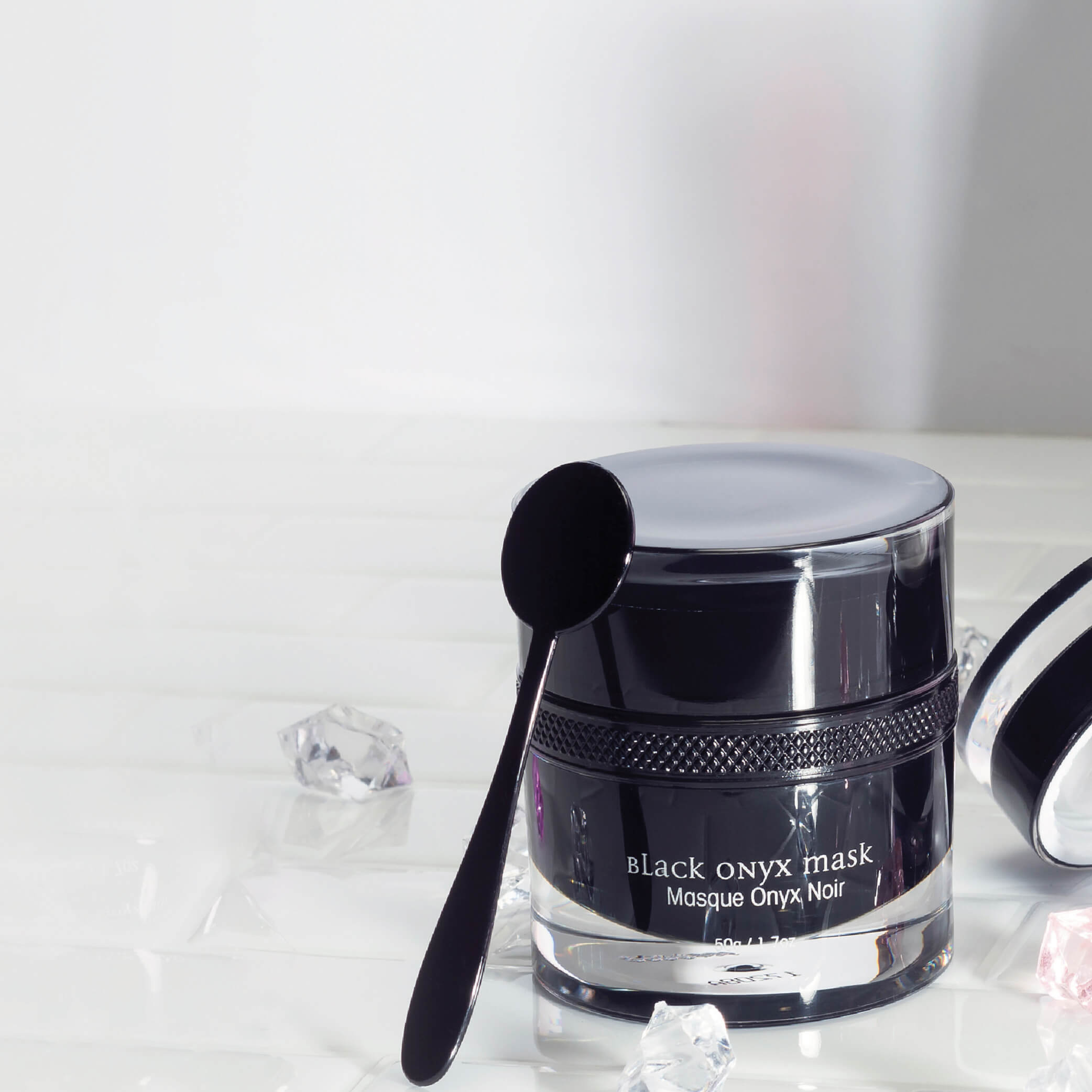 The thing that makes your face seem dull and full of imperfections are, without a doubt, outer irritants, which penetrate the surface of your skin and cause harm. Rashes, acne, and all the other imperfections are caused by the inflammations going on in the deeper layer. These are caused by foreign objects that found their way through your pores and caused havoc.
That is why it is essential for you to clean you face thoroughly at the start of any routine. A cleansing mask is always a perfect start to do this, and, when it comes to masks, there is no better than the Black Onyx Mask.
What makes it a perfect choice are its ingredients and their effect. The mask is paraben-free and devoid of any artificial ingredients that might cause an allergic reaction.
Ingredients
It contains Arnica Montana Flower extract, which is perfect for solving your problems with dry and damaged skin. It is beneficial for reducing flaking. Your skin is going to look suppler in no time. It has strong antimicrobial properties, which make it the perfect ingredient for treating acne, sunburns and any other inflammatory processes on your skin.
However, the ingredient that concerns us the most here is Coffee Arabica Seed Extract, which will deal with the signs of aging on your face in a most efficient way. It helps your skin restore moisture and hydration which is the essence of preserving skin elasticity. Your skin will appear brighter and firmer than ever.
How to Use
Apply this mask to a clean face, so you need to wash it thoroughly beforehand. While applying it, avoid the eye area, as always. Leave it on for 10 to 15 minutes and then remove it with cool water. It should be used no more than once or twice per week, as any mask, because of its strength.
As we have already said, the Black Onyx Collection products work best together. In the case of the Black Onyx Mask, it is used best with the Black Onyx Serum. Let's see why.
Black Onyx Serum
Infused with Vitamin C and A, this serum is going to do wonders for your face, especially in the wrinkles department. The smooth skin that will be a definite result will only make you want for more.
Among the other ingredients, you can find the Black Onyx powder, whose healing properties we have already discussed. With the combination of the vitamins and the powder, your skin will appear as youthful as you desire it to be.
In order to achieve the product's maximum effect it is important to apply it to clean skin, two to three times a week.
Black Onyx Cream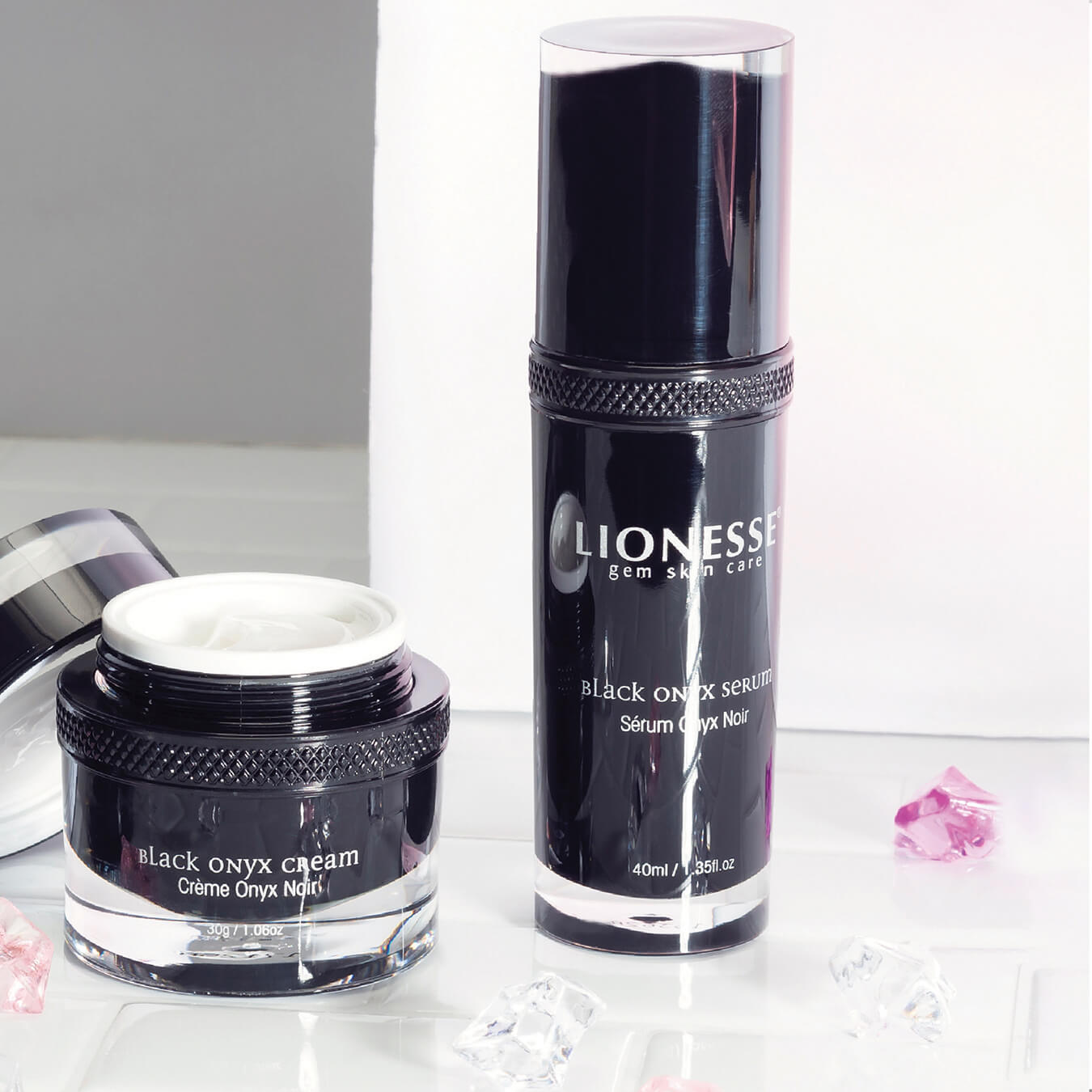 After all the cleansing and exfoliating, the only reasonable thing is to find a good cream that could soothe the skin, calm all the processes and let all the healing ingredients sink in. There is no better way to do that, and no better cream, for that matter, than the Black Onyx Cream.
There is something we have learned as we've grown older – the more you age, the less collagen is produced in your skin. And the collagen in your skin is responsible for the skin's elasticity and youthful appearance.
Once the collagen production is decreased, the consequences can be seen almost immediately on the surface of our skin and face – this is the moment when the fine lines and wrinkles appear.
That is why it is important to give your skin the thing that it is gradually losing. Luckily, the Black Onyx Cream is rich in collagen and its use will definitely make up for the loss. You will see the difference in no time.
You will enjoy your rejuvenated skin and wonder how you ever managed without the cream.
As for the whole collection, it is available at the Lionesse site at a very reasonable price.
What is more, if you are willing to pay a little bit extra, you can add a true gem to the collection – the Torche V2 +!
Lionesse Torche V2+
Torche V2+ is a special product that transmits LED light which stimulates the blood circulation. In that way, more oxygen is brought to the cells of your face. The oxygen restores the cells and has a big part in the rejuvenation process. By massaging your face and neck with the Torche V2+, you will reduce the appearance of wrinkles and deep lines. Your skin will be firm and smooth, and more radiant than ever.
As you can see, although one of the best, Lionesse Black Onyx Line Eraser Syringe is not the only product Lionesse has on offer.
Apart from the Black Onyx Collection, there are many more you can try, and you won't regret it.
Other Lionesse Collections to Try
The Lionesse Gem Amber Collection contains 3 products infused with amber that you will simply adore. The Collection especially focuses on the area around your eyes. Your entire face will soon be regenerated and glowing, just like when you were young.
The Lionesse Gem Diamon Collection gives diamonds a new purpose – and your complexion something everybody will want. Your skin will appear softer and tighter at the same time. Trust us, you have to try it.
If you need to take care of your sensitive skin, prone to irritation, then you will definitely have to opt for the Lionesse Gem Golden Sapphire Collection. Its soothing effect will solve all of your skin imperfections and irritations, and leave your skin simply flawless!
So, if you ask us, you've got some shopping to do.