Tips for Pageant Contestants
When it comes to the pageant world looking your best is vital. If you are new to the pageant world you may need some guidance. If you have been on the pageant circuit for a while it is always good to have a refresher on the most important things to consider for your beauty routine. Read on for our guide to beauty for the pageant world.
Hair
 Your hair is an important part of your pageant look. Be careful to choose the right style, you want something that is elegant and beautiful. If our hairstyle looks like something you could see at prom than it is not the right choice.
Beautiful Skin
Beautiful skin is a must for pageants. To ensure your body looks you need to eat healthy, exercise and drink plenty of water… the same goes for your skin! Also, make sure you have a good skin care routine started at least a month before your competition. At the very least you should use a gentle cleanser and a good moisturizer to ensure your skin glows. If you have any skin issues like acne or oily skin get products that specifically address those issues. To enhance your beauty or if your skin isn't looking as perfect as you'd like use makeup. It is important to do some research to find the best concealer and foundation for your skin. Try a couple different types or see a makeup artist for advice on picking the best formulations for your skin. In the pageant world, it is also important to have beautiful skin on the rest of your body, not just your face.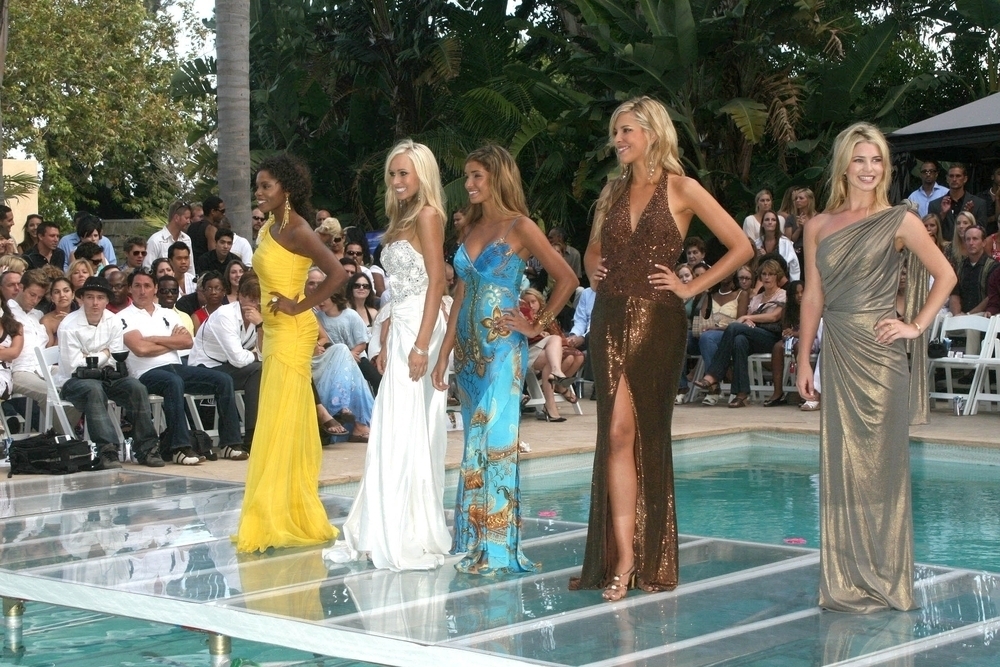 Not every contest may include a swimsuit portion but you will still be showing some skin in your gown. As we've mentioned eating right, working out and drinking loads of water helps give you beautiful skin but there are other things you can do to enhance your glow. First, make sure you remove unwanted body hair. Hairy pits or hairy legs will not make you stand out in a good way. You can choose different methods to do this: shaving, waxing or hair removal creams. Waxing is a great option because it leaves your skin smooth and bump free (no razor burn!). Just be mindful of the timing… your hair needs to grow out a bit before you can wax it. A healthy tan is a must! To protect your skin from harmful UV rays invest in self-tanning. You can either visit a professional for an airbrush tan or you can do it yourself with the help of a self-tanner. As a finishing touch run a bit of shimmery bronzer in areas where light naturally hits like down the front of your legs and on cleavage.
Emphasize Eyes
This is a big part of pageant preparation, it can hide flaws and accentuate your best features. Highlighting your eyes will really make them pop. Make sure that your cosmetics coordinate with your outfit or choose neutrals colors that go well with any look. You really can't go wrong with an elegant brown or black smoky eye. If you are going with black just be careful not to overdo it so you don't end up with raccoon eyes. You can also choose shades that enhance your eye color. The best shades are those that are opposite to your eye color on the color wheel. So for green eyes look for purples or magentas, for blue eyes orange or yellow shades are best, while brown eyes can pull off almost any shade. If your eye color falls in between those shades or is more unique just google color wheel and voila!
  Cheekbones
You will also want to draw attention to your cheekbones. High cheekbones are highly prized, in most photos you see of celebrities or models they have used makeup to emphasize their cheekbones. You need 3 things for this: blush, highlight, and contour. Highlighting and contouring your face will enhance all your best features. Don't forget to use a flattering blush. Choose a color based on your skin tone.
Smile, Smile, Smile!
Your smile is one of your competitive advantages so make it look great! Many girls choose a stand out lip color, like a classic red, to make their smile stand out. If you are planning to wear a colorful lip than make sure you prepare beforehand. Exfoliate your lips in advance so they are smooth and soft and color is uniform. Also, do not forget that lip liner is your assistant, not the star… dark lip liner with pale lips should stay in the 90s! Use lip liner to help your lip color stick and prevent feathering. Apply a color that matches your lipstick or the color of your lips. And always remember SMILE, SMILE, SMILE!
Emergency Situations
Be sure to keep an emergency kit on hand for any unexpected situations that may arise. Pack the following in a cute bag to always be prepared:
Curling iron
Straightening iron
Extra jewelry
Nail strips or artificial nails and glue
Flipper for missing or chipped teeth
Fabric glue
Toupee tape
Sewing kit
Hairspray
Hair extensions or clip ins
Wipes
Safety pins
Bobby pins
Tide stick or other emergency stain remover
The most important thing to remember is to be confident and have fun! Confidence is one of the most important things to looking beautiful. If you are feeling nervous or unsure use the fake-it-to-til-you-make-it approach. Put a smile on your face and pretend you feel calm and collected and before you know it you will feel that way. We hope our tips will help you look and feel beautiful for your competition. Good luck!