We've all heard of using gems in jewelry, right? From rubies to topazes, they make stunning additions to necklaces and bracelets that sparkle in the sunlight.
Gemstones are believed to have cleansing properties that will help the wearer. Some stones aid in providing healing, while others can help generate positive vibes, detox your aura, and connect yourself to your inner consciousness.
But have you ever thought about using precious stones in skincare?
Here at Lionesse, we strive to harness the exceptional abilities of gemstones. Our collections offer their wearers feelings of power and strength through the use of these precious rocks.
When we combine our signature gemstones with other powerhouse ingredients, the result is even more impressive. For example, our brand's skincare collections are created by assembling an exclusive collection of minerals, botanical extracts, and vitamins with a specific gemstone. Gemstones, when mixed into potent formulas, have the power to neutralize many skin concerns completely. 
For those of you who are looking for the ultimate skincare line that will help rejuvenate your skin, look no further! The Golden Sapphire Collection will deliver those results. Keep scrolling to read more about the incredible benefits of this collection.
The Golden Sapphire Collection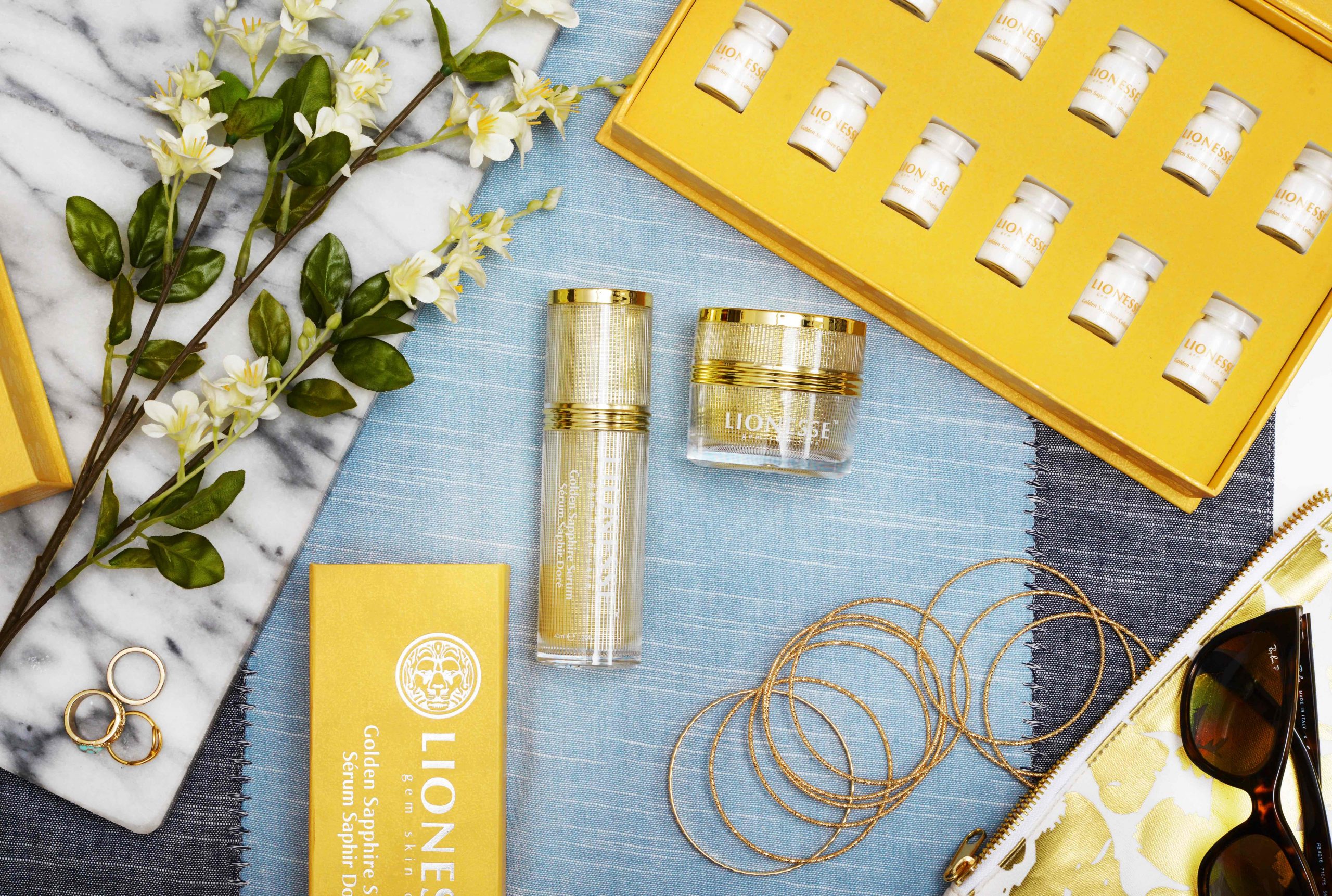 Golden sapphires are known for their purification properties and are said to be able to purify the mind and body of toxins, relieve stress, and clear your sight.
However, did you know that using golden sapphire in your skincare can also help heal and calm inflammation?
The Golden Sapphire Collection allows you to enjoy the fantastic advantages of golden sapphire, all so you can luxuriously indulge and pamper your skin. Paired with the best ingredients, the Golden Sapphire collection aims to give you that glow.
In this article, we break down the key ingredients in each product in the Golden Sapphire Collection to better explain how effective our products are for your skin.
The Golden Sapphire Serum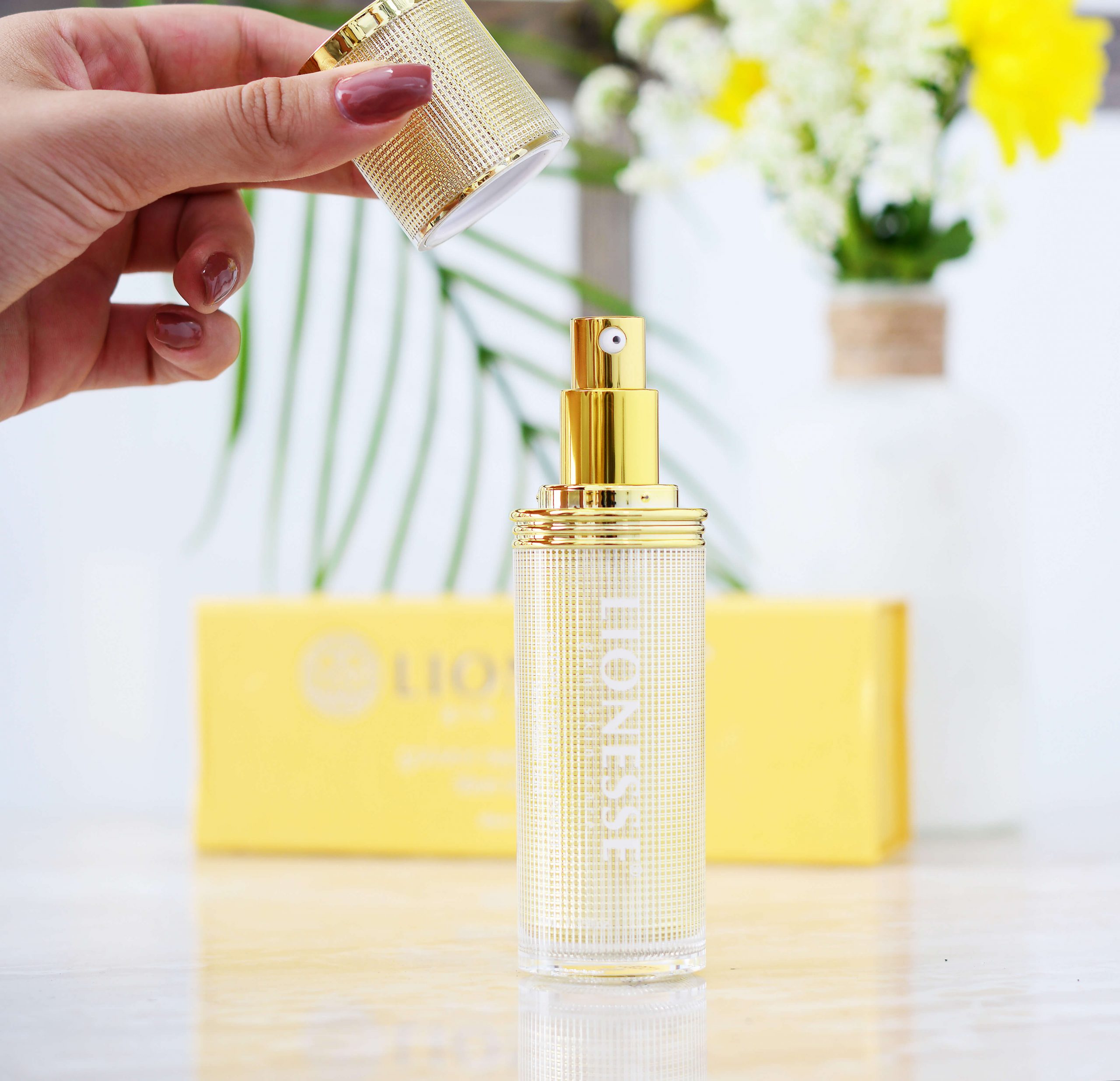 The Golden Sapphire Serum is specially formulated to target fine lines and wrinkles, which is why we've added a blend of active ingredients and botanical extracts to this groundbreaking product in the Golden Sapphire collection. Use this serum in combination with the Golden Sapphire Cream two to three times per week, and watch as your skin transforms.
Bid Adieu to Signs of Aging With DMAE
Looking to get rid of those pesky wrinkles and fine lines? This serum is loaded with the potent power of DMAE, or Dimethylaminoethanol Tartrate, a skincare ingredient with anti-aging benefits.
It helps reduce wrinkles, sagging skin, and even undereye circles. This makes it a great addition to any skincare routine.
Get That Plump, Youthful Skin With Collagen
One ingredient that always pops up in skincare is collagen, and that's because it's highly beneficial.
As the most important structural protein in our skin, collagen helps provide us with that plump and youthful appearance. Unfortunately, our skin's collagen levels deplete with age, and other factors like a sugary diet, bad lifestyle habits like smoking, and too much sun exposure.
For That Moisturizing Action, Glycerin Does the Trick
Having well-moisturized skin can stave off any signs of aging and help to protect your skin barrier, and that's where this serum comes into play.
This serum contains glycerin, a skin-loving humectant that draws moisture from the environment and keeps it in your skin. Besides that, it also helps improve your skin's resilience!
Acetyl Hexapeptide-8 for Wrinkle Reduction
Commonly known as "Botox In A Jar", this ingredient never disappoints.
Acetyl Hexapeptide-8 is also called Argireline, which is a type of peptide that's effective against wrinkles. It works to stimulate collagen production, deliver moisture, and inhibit wrinkle formation in your skin.
Palmitoyl Oligopeptide And Palmitoyl Tetrapeptide-7 Work to Stimulate Collagen
Peptides are another skin-loving ingredient that can help reduce your skin's inflammation levels. Sensitive skin gets inflamed pretty quickly, and these two synthetic peptides can help calm your skin while boosting collagen production.
Potent Botanicals Like Licorice Root Extract and Laminaria Japonica Extract Help Even Out Your Skin Tone
Besides having blemish-free skin, we all want skin that's even with no hyperpigmentation. That's precisely why we've added these two botanical extracts into the Golden Sapphire serum for some hyperpigmentation-busting action.
Laminaria Japonica is an iodine-rich seaweed found in Japan, and it can also aid in hydrating your skin because it contains loads of humectant properties.
Golden Sapphire Liquéfier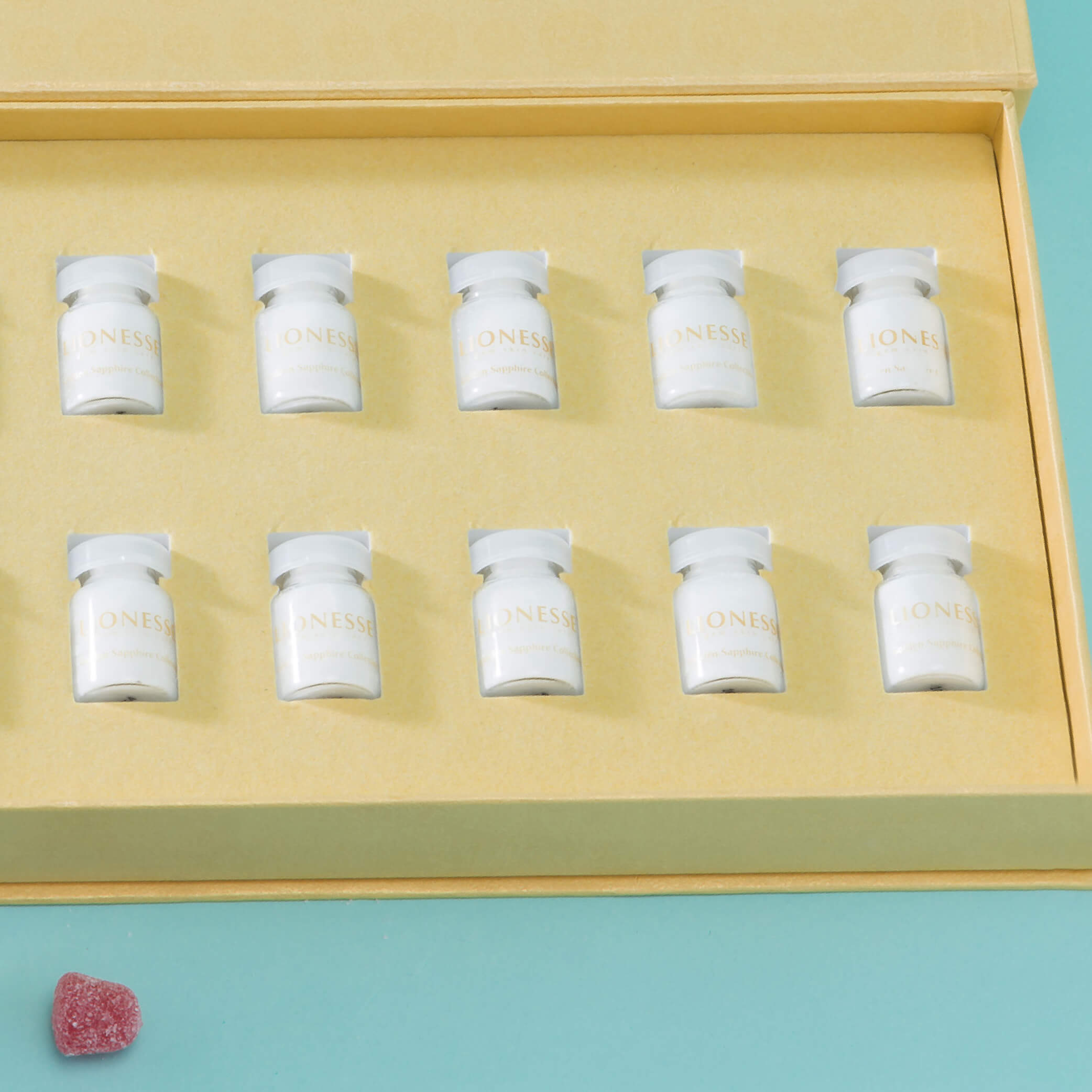 This potent formula comes in a powder and dissolves into a liquid when massaged into your skin. Due to the strength of this product, we advise using it just once a month in combination with the Golden Sapphire Serum and other products in the Golden Sapphire Collection.
The Golden Sapphire Liquéfier is packed in small vials, which helps to preserve its freshness and prevents oxidization from occurring, leaving you with a potent product that helps nourish and hydrate your skin.
Fight Free Radicals With Vitamin C
Vitamin C is no stranger to the skincare-sphere. Its touted as a great antioxidant that can help protect your skin cells from UV exposure, brighten your skin tone, and boost your skin's collagen production.
Using this ingredient in your skincare regimen will result in brighter, more radiant skin!
Brown Algae Extract Protects Your Skin Against Oxidative Stress
Oxidative stress is another major factor in skin aging. When your skin undergoes oxidative stress, the collagen fibers break down due to inflammation, leading to wrinkles and fine lines.
Alaria Esculenta extract, a brown algae extract, can help shield your skin from oxidative stress because of its potent antioxidant properties. It's just full of amino acids, vitamins, and minerals- all the things our skin needs to thrive.
The presence of Alaria Esculenta extract in this product makes it excellent in treated dull and tired skin.
It has been demonstrated to improve skin health by boosting hyaluronic acid synthesis, enhancing skin barrier function, and increasing skin hydration levels.
This extract also contains Omega 3, 6, and 9, which can help improve your skin's resilience.
Green Algae Inhibits Signs of Skin Aging
If you always thought that green algae were nothing more than a blob of slippery mess, think again!
Green algae have so many benefits for your skin and have demonstrated many anti-aging properties too. For starters, it can even prevent hyaluronic acid breakdowns in your skin, allowing your dermis to remain hydrated and supple.
Besides that, this ingredient has many skin restorative abilities and is an excellent natural product to help with your skin health. 
Polymethylsilsesquioxane May Sound Like a Mouthful, But This Silicone Locks in Moisture
Silicones generally have a bad rap when it comes to skincare, but they serve an essential purpose.
This silicone component works as a texture enhancer, skin protectant, absorber of excess oil, and improves complexion. Polymethylsilsesquioxane forms a thin film on the surface of the skin, locking in moisture.
This way, you won't have to worry too much about transepidermal water loss because this bad boy keeps all the moisture your skin needs locked in.
It can also help to smooth out fine lines and wrinkles. Polymethylsilsesquioxane can temporarily fill in fine lines, wrinkles, and uneven texture for a smoother, younger appearance.
Golden Sapphire Cream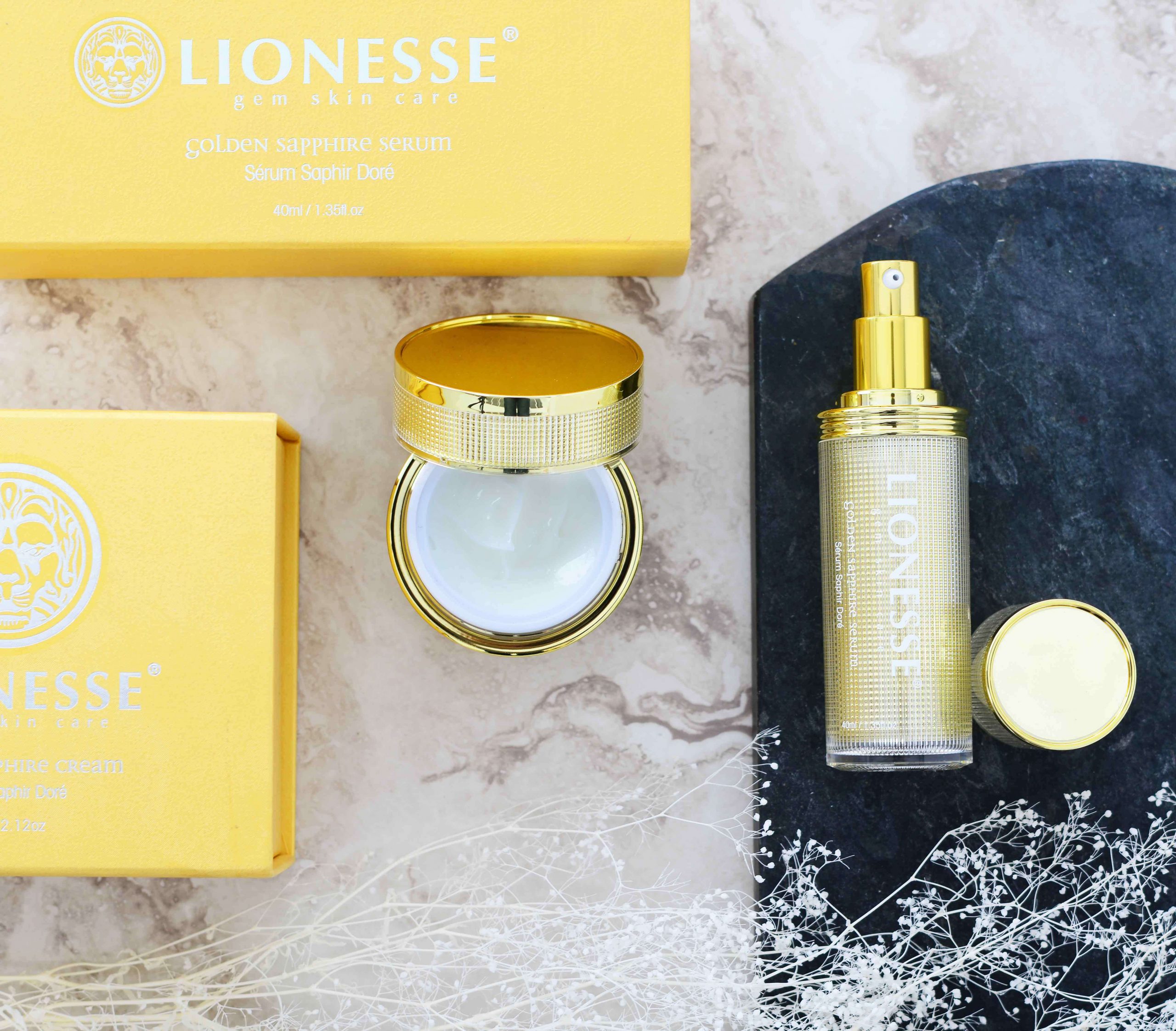 Did you know that dehydrated skin makes fine lines and wrinkles so much more obvious? Water is necessary for healthy skin hydration and the delivery of important nutrients to skin cells. It aids in the replenishment of skin tissue and increases its flexibility, resulting in a delay in the appearance of wrinkles and fine lines.
In addition to those eight glasses of water a day that you need to chug down, try on our Golden Sapphire Cream for an extra dose of hydration. This rich cream is a great moisturizing product from our Golden Sapphire Collection, and does a wonderful job at keeping your skin hydrated.
It also has other active ingredients that work together effectively to give you that youthful complexion you've always dreamed of having.
Increase Your Skin's Turnover Rate With Retinyl Palmitate
Also known as vitamin A palmitate, it's the least potent retinoid, making it a good choice for folks with highly sensitive skin who want to get the advantages of retinol without the aggravation.
Despite its gentle nature, retinyl palmitate can help with the same skin issues that retinol can.
​​Fine lines, wrinkles, uneven texture, and dark spots are just a few of the issues that retinyl palmitate can help with. It also increases the production of collagen, the protein that keeps skin firm and smooth.
Harness The Benefits Of Olive Oil For Your Skin
What's great about the Golden Sapphire Cream is that it contains Olea Europea Fruit Oil, more commonly known as olive oil.
While this ingredient is a staple in our kitchens and pantries, it is also beneficial for your skin!
Olive oil is rich in vitamins like A, D, E, and K. These will nourish your skin with much-needed nutrients. In addition, olive oil is also a powerful antioxidant that can prevent premature aging.
This multifunctional oil also has some antibacterial benefits and can heal your skin.
Achieve That Glowing, Even-Toned Skin With Vitamin E
Vitamin E is also a powerhouse ingredient. That's why here at Lionesse, we've decided to include it in our Golden Sapphire Collection products.
You'll find it in the form of Tocopheryl acetate. This is the type of vitamin E commonly used in skincare products to support healthy skin. In addition, because vitamin E has a thicker, oilier consistency, it makes for an excellent moisturizer, especially if you have skin that's on the drier side.
Applying vitamin E topically also helps fade acne scars and hyperpigmentation, and it's also a powerful antioxidant that can help reverse the signs of aging.
Enjoy Good, Glowing Skin With Nature's Gift, Aloe Vera
Chances are you've probably heard of the aloe vera plant, a plant with so many benefits for our skin and health.
Aloe vera gel is chock-full of enzymes, minerals, antioxidants, and even salicylic acid, a beta-hydroxy acid that helps with acne.
Since Aloe Vera is made out of 95% water, it hydrates the skin without leaving a greasy residue after application. Aloe Vera not only locks moisture into the skin but also acts as a glue. It helps the top layer of skin cells to stick together, resulting in smoother, softer skin.
Aloe Vera has proven to be an effective moisturizer for both sensitive and oily skin types.
Banish Your Hyperpigmentation Woes With Licorice Root Extract
Licorice root is an effective anti-inflammatory ingredient. In addition, it also fights free radicals by preventing excess melanin and reducing their production.
As a result, licorice root extract is found in most formulations that eliminate dark spots or treat hyperpigmentation. It effectively lightens and removes dark spots to give you a more even skin tone!
Licochalcone A, an active component in licorice root extract, strengthens your skin's defense mechanisms and protects it.
When applied to the skin, it boosts antioxidant production, reducing UV damage even if you aren't wearing sunscreen.
Licochalcone A also aids in the regulation of oil production, which can minimize acne. It also helps to prevent fine lines and wrinkles from appearing.
Golden Sapphire Solidifying Peel-Off Mask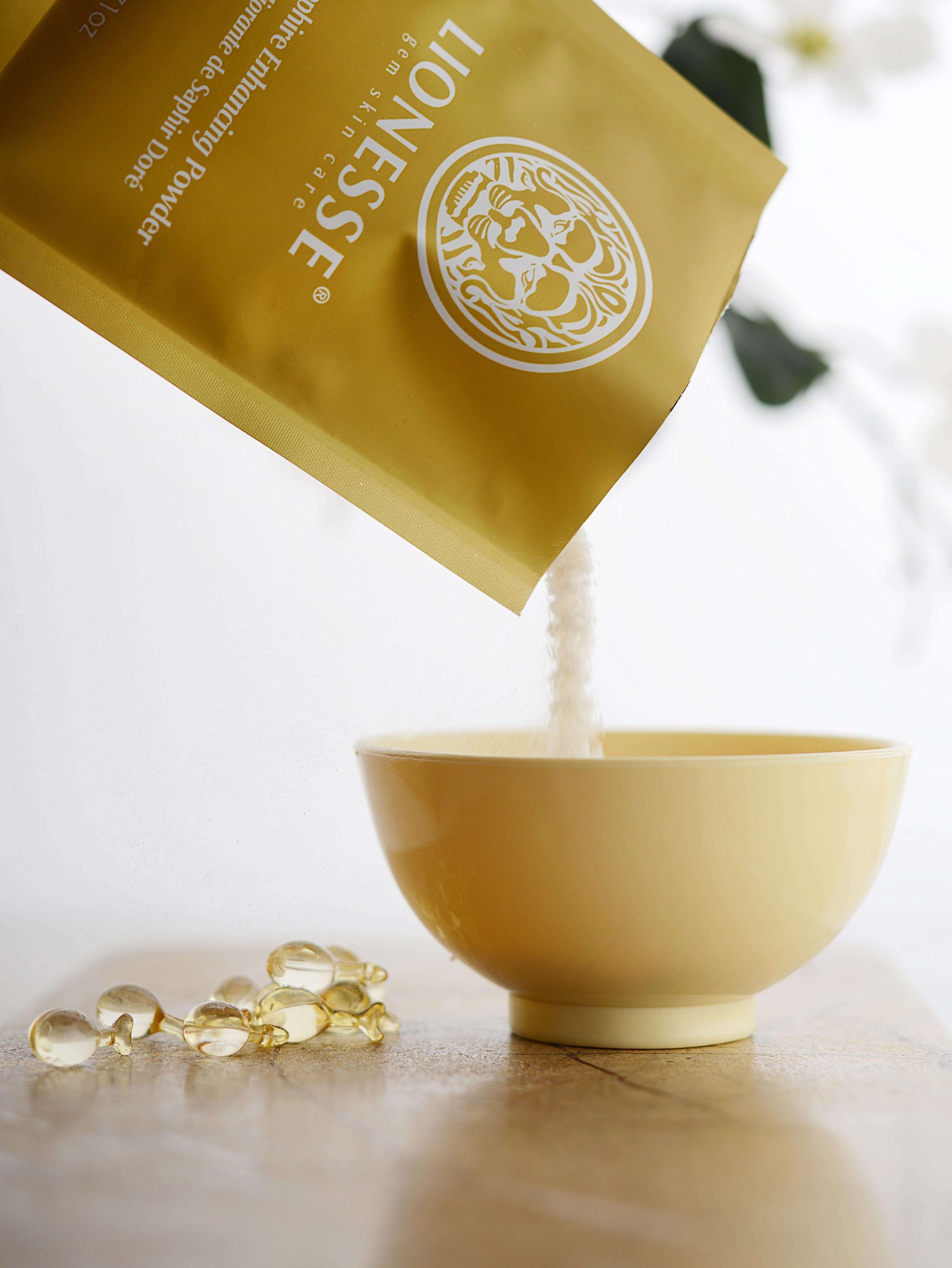 This boxed mask set is the last item in the Golden Sapphire Collection, but it is a product that is so indulgent and luxurious that it'll pamper your skin till it glows. This face mask has just what you need to feel youthful and beautiful.
The Solidifying Peel-Off Mask from Lionesse has three different components: hydrating capsules, solidifying gel, and enhancing powder.
Formulated with ingredients of the highest quality, the Golden Sapphire Solidifying Peel Off Mask never disappoints!
Say Goodbye To Skin Inflammation With Evening Primrose Oil
Evening primrose oil has a myriad of benefits, and it is anti-inflammatory due to its high gamma linoleic acid content.
When applied topically to your skin, it can also help clear up acne, ease eczema, and improve your skin's elasticity, firmness, and moisture.
This ingredient is in the Golden Sapphire Hydrating Capsules, the first step in this product.
Give Your Skin A Detox With Diatomaceous Earth
Diatomaceous earth looks and feels similar to clay and is a white, odorless powder made from fossilized algae particles. Diatomaceous earth has a high silica content, which aids in collagen production and detoxification.
All in all, here at Lionesse, we want to provide you with skin care products using only the finest ingredients so that they work efficiently and effectively on your skin.
We aspire to create gemstone-infused products that will elevate your skin and life, providing a holistic transformation for our customers.
For more gemstone-infused, paraben-free skincare, click on over to our shop.